'Teen Mom 2' Star Leah Messer Destroys Jenelle Evans For Comparing Their Custody Battles!
The worst thing you could do to a Teen Mom star is call her a bad mother. The second worst thing you can do is compare her to Jenelle Evans, apparently.
Leah Messer was not having it when Evans likened her recent child custody drama to her former Teen Mom 2 costar's on Twitter, and she responded with a clap back for the ages.
It all started on Friday when Jenelle was replying to her usual lynch mob of mommy shamers who were condemning her for temporarily losing custody of her two children because of that pesky dog killing drama.
Photos: Jenelle Shares Pics Of First Day Of School — With A Scary Guest!
For those who forgot, Jenelle's hubby David Eason basically admitted to shooting and killing her French bulldog, Nugget, after it allegedly snapped at their 2-year-old daughter Ensley. What followed were police investigations and custody trials that saw the couple childless for months. 
Tired of the undying hate, Jenelle thought she'd change people's perspectives by comparing her plight to another, much more beloved member of the Teen Mom community's. She wrote on Twitter:
"So I guess Leah's not a good mom? She got her kids taken and given back just like me."
Mmm… not exactly, gurl.
While Messer did fight over custody of twin daughters with ex-husband Corey Simms in 2015 after the MTV star sought treatment for anxiety and depression, she confirmed she never actually *lost* custody of Ali and Aleeah.
Video: Jenelle Evans & David Eason Got Two New Puppies…
Fans were quick to point this out, and Leah was quick to double down on how different her situation was from Jenelle's.
Retweeting a fan who launched an angry message at Evans, Leah wrote: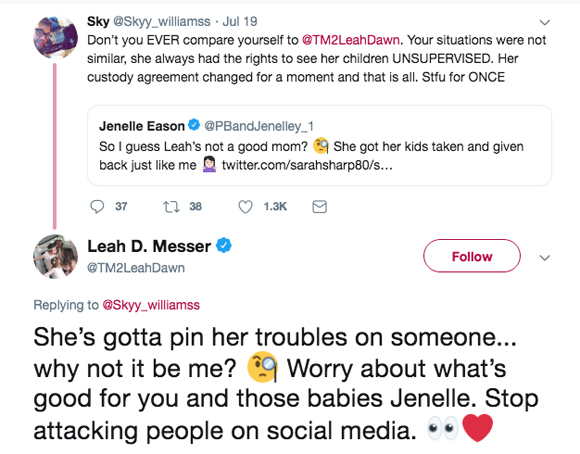 Damn!
She repurposed the same emoji and everything! Vicious!
After a fan applauded her for speaking out, Messer added:
"She ain't worth my time."
As Leah explained to Us Weekly last year, her custody agreement with Simms has "always been 50/50." She said of the 2015 custody battle:
"People were like, 'Leah lost custody.' I almost did, but I never lost custody of my children."
And there's a difference!
Evans eventually regained custody of her two youngest children, while her oldest son, Jace, remains in the care of the reality star's mom, Barbara Evans, whom he's lived with for most of his life.
What do you hope for Jenelle, Perezcious readers?