Brody Jenner Dodges 'Bulls**t' Kaitlynn Carter Question As His Mom Makes Her Thoughts KNOWN Via Instagram Likes!
Brody Jenner has nothing to say about Kaitlynn Carter's steamy relationship with Miley Cyrus — nor does his mother!
The Hills star shut down a paparazzo who hounded him on Monday with questions about the internet-shattering hook-up between his ex and the pop star.
Brodster was picking up beverages in Malibu, California when he was asked about Miley's makeout sesh with Carter on a boat in Lake Como Italy earlier this month. His response to the cameraman was quite telling:
"I'm not gonna answer that bulls**t."
You know what they say: if you have nothing nice to say, don't answer that bulls**t.
This comment combined with his recent social media musings suggest Brody is rather salty about his ex's new fling. But according to a Page Six source, the 35-year-old has known about Kait's romance with Miley for "a couple of months" and has been "totally okay with" it!
Related: Miley & Kaitlynn PDA Is 'So Fake', Says Brody's Costar!
Noting how it was Brody who initially introduced the two to each other, the insider said "there's no drama" between the group as "Brody is still friends with them."
As for the questionably shady Instagram interaction between Jenner and Cyrus, the insider claimed:
"Miley's comment was in jest. She was joking about him sleeping in his car because they're friends. She knew about that episode. There are no issues… Brody wants his ex to be happy and he's friends with Miley."
Hmmm… so why is he refusing to answer questions about the romance if he's actually "okay" with it?
Well, the reality TV star could just be living the "silence is golden" mantra. After all, his mother, Linda Thompson, is making a point to do the same amid the drama.
However, the 69-year-old songwriter has been "liking" up a storm of comments on Instagram suggesting Carter is trying to get Jenner's attention and being disrespectful to the family. One comment Thompson liked read:
"I think she's so hurt and trying to get his attention!! Not the way to do it but sad all around!!"
She liked another referencing Cyrus' split from Liam Hemsworth: 
"Speechless is right! When you are married to Brody or Liam, I mean some of the best looking guys on this planet. What the heck?!"
The comments came after Brody's mom posted a quote attributed to the 14th Dalai Lama: 
"Silence is sometimes the best answer."
She added in the caption of the post:
"When feelings are ineffable, often it is better to say nothing at all #speechless."
Noted!
Thompson may be staying silent on the subject of her son's ex, but she's not being shy with his rumored new girlfriend Josie Canseco! 
Related: How Does Liam Feel About Miley And Kaitlynn??
After the former Playboy Playmate commented on her son's recent IG picture with a heart-eyed emoji, Caitlyn Jenner's ex returned the love and replied to Josie with not one — but two kissing emojis. 
See for yourself (below).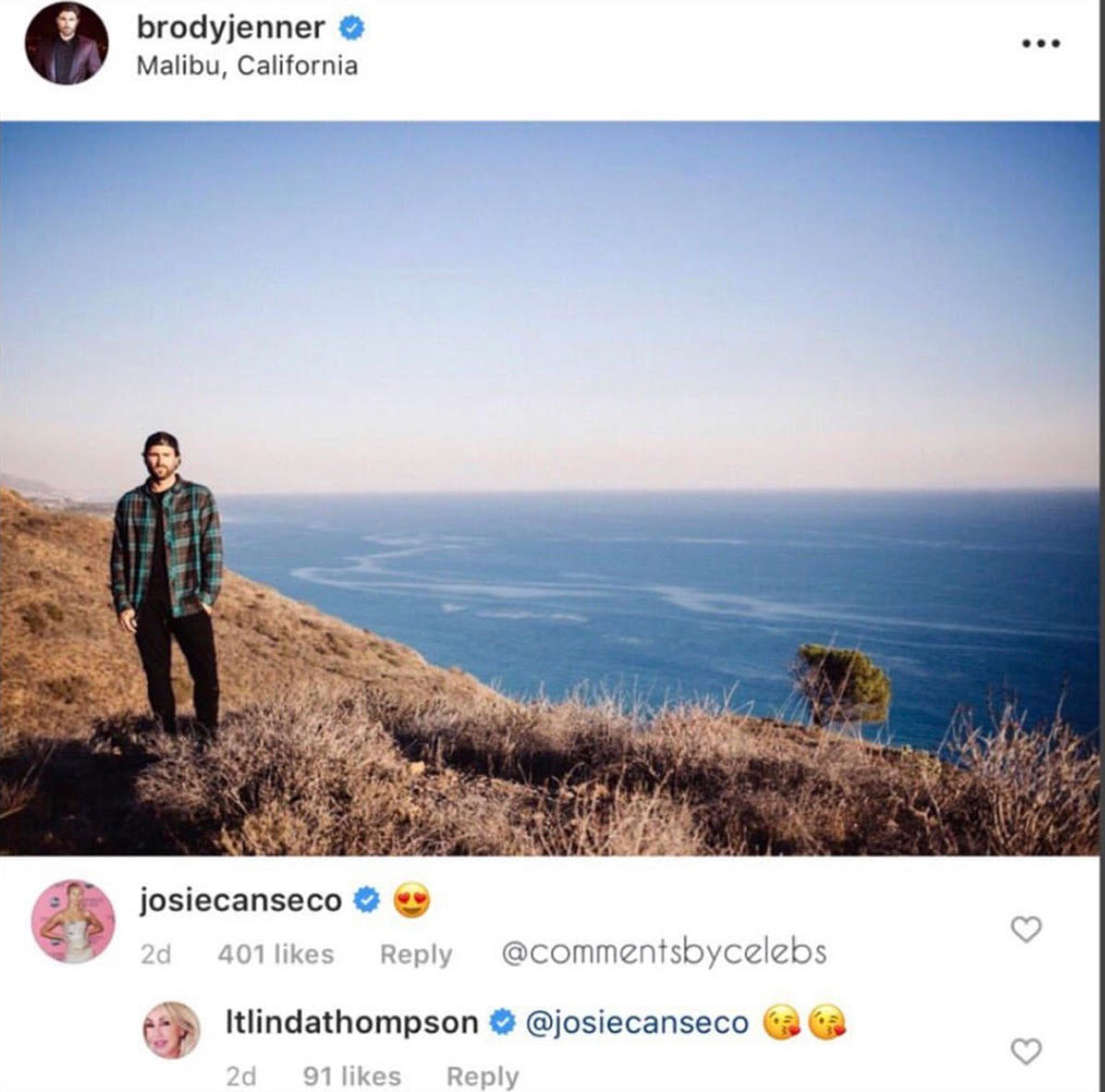 Clearly, the his and his mom's silence on Kaitlynn's new fling speaks volumes. We're just not exactly sure what they're trying to say…
What do U think about all this, Perezcious readers?
[Image via WENN]