Bode Miller's Wife Morgan Beck Miller Shares Honest Message About Pregnancy Over A Year After Daughter's Tragic Death
A month after announcing her pregnancy with twins, Bode Miller's wife Morgan Beck Miller is opening up about her journey thus far.
On Saturday morning, Morgan shared an update to her Instagram Story as she approaches the 31st week of her pregnancy, just over a year after the unexpected passing of her daughter, Emeline Grier.
Related: Bode & Morgan Give First Interview After Daughter's Tragic Drowning Death
The former pro volleyball star penned (below):
"30 weeks 5 Days Identical twin boys. If I'm being honest, most days, I hate being pregnant. But today, I was reminded that this belly has grown 5 healthy babies. It has been a home for the creation of life and played a monumental role in providing me with the love I get to feel every day. I should give my body the same love it has provided me. Feeling so much love and gratitude 🙏🏼."
Ch-ch-check out her post (below):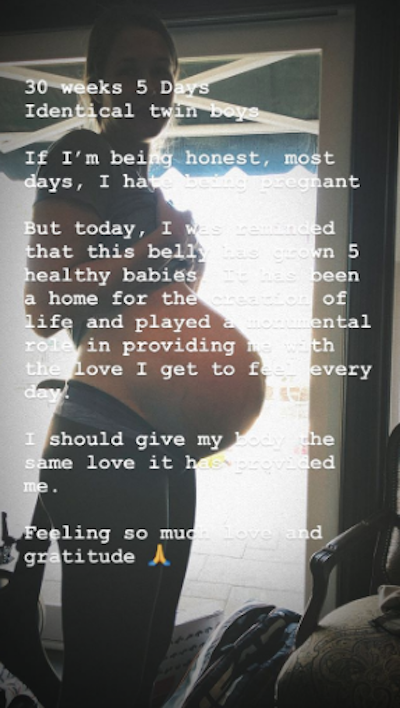 In August, Morgan and Bode announced their pregnancy on the Today show:
"From the beginning of our relationship, [Bode] always said, 'I want identical twin boys, born on my birthday.' And this time, when we found out I was pregnant, I said, 'Do you think it's twins this time?' And he said 'No.'"
Morgan, who was pregnant with son Easton Vaughn Rek when Emmy passed in June 2018, further elaborated on her varying emotions via IG after the TV announcement:
"Losing a child while pregnant was the most confusing experience of my life. The conflict of emotions from what was pure joy turned to guilt and terror overnight. How could I love this baby the way I loved Emmy? Was it okay to love this baby the way I loved Emmy? It felt like by loving my son, I was trying to replace her. The fear of birthing my son and what that meant …..a monumental step forward….proof that time continued without her when all I wanted was for time to stop.
But let me say this….I couldn't have been more wrong."
The 32-year-old continued her emotional message:
"Easton provided us an even closer bond to his sister. The moment I heard his cry, something sparked back alive in my soul. Hope. Love. I'm not sure. But in that moment, I knew I was Mom and my kids deserved the world from me. Everything was going to be okay. My joy and grief could coexist.
Now, I can actually say with joy and excitement that we are expecting identical twin boys. From the day I met my husband, he has always said he wanted identical twin boys born on his birthday. We are due on the lucky day/angel number of 11/11 which is not far off from @millerbode Birthday of 10/12. From the beginning of this pregnancy, we knew Emmy had her hands in this miracle somehow."
The Millers also share 11-month-old son Easton, four-year-old son Nash, and Bode welcomed six-year-old son Samuel Bode and 11-year-old daughter Neesyn Dacey in previous relationships.
[Image via Morgan Beck Miller/Instagram.]