Hayden Panettiere Spotted Holding Hands With Her Allegedly Abusive Boyfriend's BROTHER?! PLOT TWIST!
We guess all's good between Hayden Panettiere and the family of her allegedly abusive boyfriend?
As we reported, the Nashville alum was granted a restraining order against Brian Hickerson after his physical altercation with the actress in May. While the aspiring actor is forbidden from coming within 100 yards of the star, she's apparently found the next best thing to keep her company: her BF's brother, Zach Hickerson!
That's right, y'all. Hayden was spotted holding hands with Zach on the streets of New York City September 4, just three months after Brian was arrested for domestic violence.
Related: Hayden Is 'Upbeat' & Having A 'Good Time' After A Rough Few Months!
The industry vet appeared to be in great spirits as she and Zach skipped down the sidewalk while talking together during their stroll. But despite the questionably cozy appearance, a source close to the Hickersons insisted to In Touch Hayden's relationship with Zach is "not romantic," claiming:
"Hayden and Zach are just friends. They have been friends for as long as she's been dating Brian; Zach and Brian are close. Zach was in NYC for a job interview and he linked up with Hayden who was already in town. They were just goofing off and holding hands as friends. At one point, she was jumping up and down making funny faces, and he was flexing his muscles and laughing. They looked happy together."
Huh… so, this hand holding is nothing more than some platonic PDA? Inneresting…
It looks like Hayden's keeping close to her boyfriend's family until their legal issues subside. As we reported, a Los Angeles County judge issued a protective order against the 30-year-old on May 23 after a prosecutor claimed Hayden sustained injuries from an incident with him, including bruises on her arms, ear, and neck area.
Related: Hayden's Ex-Fiancé Thinks Her Boyfriend 'Should Be Stopped'
During the arraignment, the prosecutor alleged Brian "hit [Hayden] on the face, causing her to get dizzy." The South Carolina native pleaded not guilty to the felony domestic violence charge at the arraignment, and he's set to return to court on September 24 for a jury trial.
In the meantime, the family source insists Brian and Hayden still remain a couple, telling the outlet:
"It's hard on Brian that he can't be in public with Hayden. He loves her… Brian says that he and Hayden have not broken up. They have never broken up."
As for her outing with Zach — a pastor who founded the Acts 321 church in Greenville, where he and Brian grew up — an eyewitness told In Touch they were simply "being goofy" as they walked "hand-in-hand, talking and laughing together."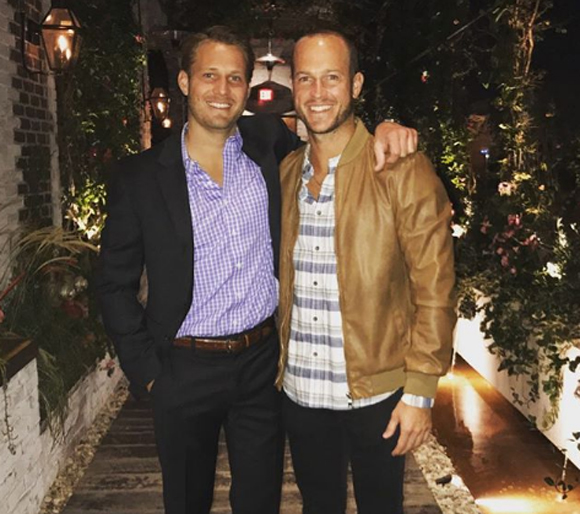 We guess it's nice Hayden has found a hand to hold onto while her boyfriend must stay at more than an arm's length away from her. Though her family would probably prefer she stay away from the Hickersons altogether, based on what we've heard…
What do U think about this drama, Perezcious readers? See the bizarre hand holding pics HERE!
[Image via Zach Hickerson/Instagram/WENN]