Kristin Cavallari Slammed For 'Poor Taste' 9/11 Instagram, Reportedly Fires Social Media Staffer!
Kristin Cavallari apparently heard the myriad criticisms of her September 11th Instagram tribute.
Do we know because she posted a heartfelt mea culpa, explaining how she realized how thoughtless she had been?
NOPE! She reportedly fired a member of her social media team!
Related: 'The Hills' Cast Was Happy Lauren Conrad Didn't Return
OK, let's rewind a sec. What was all the hubbub about in the first place? Obviously not the bottomless pic (above). No, it wasn't as egregious as a sexy selfie. But to be honest it wasn't all that far off…
On Wednesday Kristin did share a photo of herself, and it was showing off a lot of skin for what's supposed to be a somber thought.
Here's the actual post: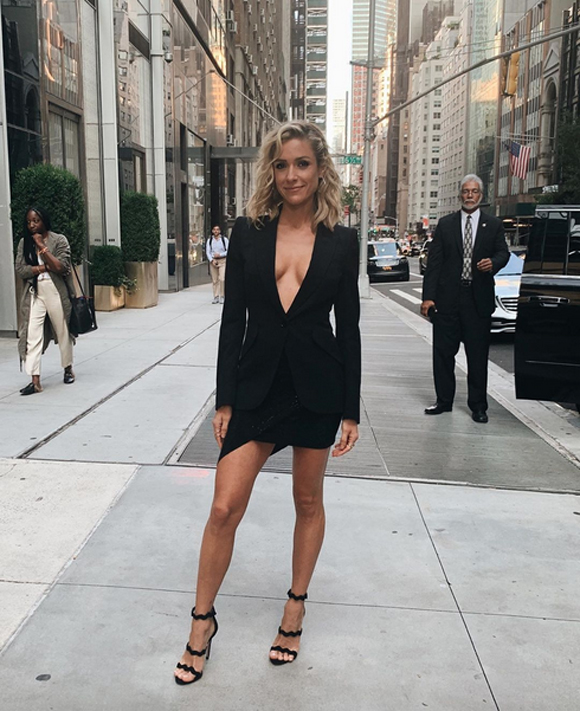 It was on this photo Kristin wrote the caption:
"NYC for 24hrs. And what a time to be here..always remember."
Yeah…
Followers were quick to blanche at the disconnect between the obviously self-promoting pic in an alluring outfit — and what seemed to be an afterthought paying respects on the anniversary of the deadliest terror attack in United States history. Here are a few comments:
"Let me show off my body and then make a half ass remark about 911. WTF."

"Poor taste"

"Sorry…did you want us not to forget about the dress or the significance of September 11th?"

"Wrong picture for the sentiment in the post."

"You're gorgeous, but maybe this picture is not the right one for today. All those people that lost their loved ones don't care how hot you look, today."

"Felt cute might make it about 9/11 later."

"I love you and think that you are generally spot on in the things that you choose to present, but this is just disrespectful and undermining to the magnitude of the events that occurred on that horrific day."
They are not wrong.
And apparently The Hills star agreed. She deleted the remark about 9/11 and left the post simply:
"NYC for 24hrs."
And according to report from Page Six, she fired the person responsible — who was not her.
An insider told the outlet it was a staffer on her social media team who put up the post. According to the source Kristin sent the photo to her team Tuesday night with the plan of promoting her collab with Daltile. It was an employee going rogue who thought to tack on the 9/11 tribute on an unrelated promo. The insider claims Kristin fired that employee — apparently within two hours, too!
Obviously we can't verify that, nor can we verify this rogue staffer story isn't all a PR move to deflect blame. Thus far Kristin has not released any official statement on the matter.
What do YOU think, Perezcious readers??
[Image via Kristin Cavallari/Instagram.]