Lauren Conrad & Husband Welcome Baby #2! See Their Sweet Announcement!
Lauren Conrad and her husband, William Tell, have expanded their family!
According to People, on Tuesday, The Hills OG gave birth to her second baby boy, Charlie Wolf Tell, who weighed in at 8 lbs., 9 oz., and measured 20 inches.
Related: Lauren Conrad Takes Adorable Son Liam For First Disneyland Visit!
On Wednesday on Instagram, the Laguna Beach alum announced the news with a cute drawing of her, her spouse, and their first child Liam James — who was born on July 5, 2017.
The 33-year-old added the caption:
"Our sweet baby boy, Charlie Wolf Tell, has arrived!"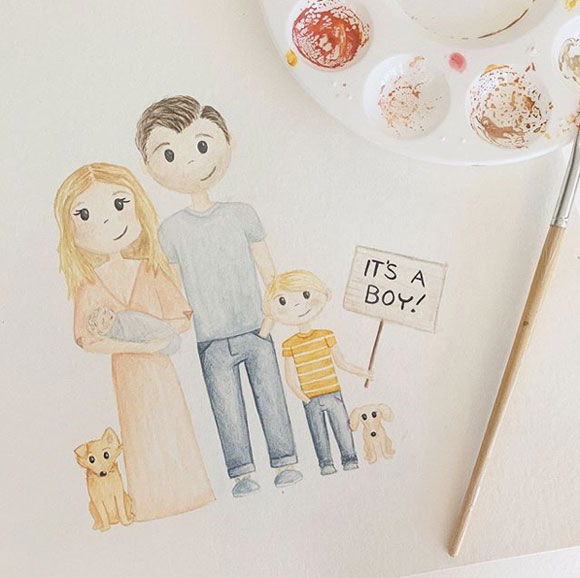 Awww!
Back in April of this year, the fashion designer announced her second pregnancy on social media by penning:
"It's been hard to keep this one to myself! Very excited to share that our family will be getting a little bigger this year 👶🏼."
Lauren and William met when she was just 16 (awww!) and have been dating since 2012. The reality TV personality and the lawyer got married in 2014 at a winery in Santa Ynez, California.
A month after Liam was born, the former MTV cast member hinted she and William planned to have another. She told People at the time:
"I was looking at him the other day and I was like, 'I understand now why people keep having babies!' We'll probably have two. I think it's best not to be outnumbered."
During a September 2018 interview with Redbook, the author denied assumptions she has her entire life together, admitting:
"It's really funny to me when people have this idea that I have things very put together. My life is a bit of a mess, and I don't broadcast that, but I like it that way. I like to focus on the prettier parts of life, but that doesn't necessarily represent all of it."
This is especially true when it comes to running her business. Though she initially tried to do everything on her own, she learned the importance of delegating duties.
"I wanted to handle everything myself—I felt that nobody would care about my business as much as I would. But when you take on too much, it's hard to do everything well. It got to the point where it was too much for me to handle. I had to learn to delegate. If you can focus on the areas where you know you can't be replaced and bring in help in the areas you can, that's where you find success."
Overall:
"You're not going to enjoy the pretty things if you've been up all night doing them. Your life isn't supposed to be Pinterest."
Congrats Lauren and William on your new addition!
[Image via Lauren Conrad/Instagram.]