Sorry, Demi – 'Bachelorette' Star Mike Johnson Awkwardly Asked Keke Palmer Out On Live TV!
Would YOU accept a date proposal in the middle of an interview on live TV?!
It's a position Keke Palmer found herself in after The Bachelorette's Mike Johnson put her in the hot seat during their sit-down on Strahan, Sara, and Keke on Monday morning. And TBH, we're scratching our heads with confusion as to how and why this all went down!
Related: Kaitlyn Bristowe Spills MAJOR Tea On 'Bachelor' Creator Mike Fleiss! 
Ironically, the ABC star stopped by the daytime talk show to discuss why he wasn't chosen as the next Bachelor — as well as share an update on his budding romance with Demi Lovato. As we've reported, the casual couple is having fun and not taking things too seriously right now!
After Palmer asked the portfolio manager about his very public relationship with Lovato, Mike admitted he may have jumped the gun by previously sharing too many details about his dating life:
"I made a mistake. I don't like dating in public."
Says the guy with TWO dating reality competition shows under his belt. LOLz. Anyway…
Just a few seconds later, Johnson caught everyone off guard when he decided to shoot his shot with the Hustlers actress! He boldly asked Keke:
"But if I were to ask you if we could go on a date…"
Mike couldn't even finish his sentence before the studio audience's loud cheers drowned him out!
The 26-year-old host was clearly caught off guard by the moment and covered her face with her interview card. In an effort to deflect the awkward attention, she nervously asked co-hosts Michael Strahan and Sara Haines to throw her a lifeline and move on to the next question: 
"What's the next question? What's the next question? Michael, you've got the next question!"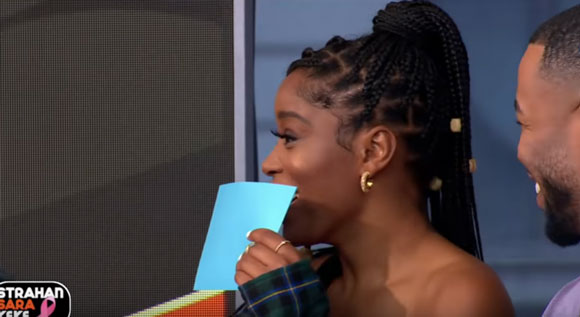 Unfortunately for Palmer, Strahan and Haines hilariously avoided eye contact and ignored her requests for help.
After all of the cheers and excitement finally died down, the former NFL star gave his two cents on the matter! Speaking directly to the other Mike, he said:
"Mike, I'm going to tell you something, right? Demi is my girl. I love this one here, too. Now, you mess up, I'm coming for you."
Keke chimed in and said what we're all thinking when she added, "I'm at work."
WATCH the tongue-in-cheek moment for yourself down (below):
https://www.youtube.com/watch?v=_TdJtptHyb8?feature=oembed
Ha! Anyone else feeling that second-hand embarrassment, too? We mean, really? The woman was at work! And, mid-interview, no less!
On one hand: Mike is super attractive and seems like a great catch. There's no shame in going after what you want and keeping your options open! But someone needs to remind him he isn't Bachelor in Paradise anymore and it's probably a good idea to stick to one high-profile connection at a time.
Thoughts on all this, Perezcious readers? Do YOU think this date proposal was inappropriate? And how do U think Miz Lovato feels about all this??
Sound OFF with your thoughts in the comments section (below)!
[Image via Strahan, Sara, and Keke/YouTube]