Cardi B Steals The Show With Glamorous Appearance At NYC Court Date!
Cardi B may be in court for a serious reason, but that doesn't mean she's going to be found guilty of committing a crime against fashion, too!
The 27-year-old rapper was at Queens Criminal Court in New York City today in connection with that infamous August 2018 alleged strip club altercation, but it was more what she was wearing than anything else that had everybody's attention. What can we say? Sometimes, you've just gotta dress to impress!
Related: Cardi B Basically Says She'll Always Forgive Offset For Cheating?! Girl…
The Bodak Yellow star pranced up the courtroom steps to her appointment with the judge rocking a white dress shirt, a black tie, black pants, and the show stopper: a black, feathered coat with a huge hood and a VERY long train. The train was so long (maybe 10 to 12 feet?!), it took several team members to assist her with it up the steps and into the building. WOW!!!
Because Cardi just can't help being Cardi, she also rocked long, sage green-colored pointed nails for the court date, as well. Why not?! BTW, you can see the full, impressive look HERE. Yeah, talk about a show-stopper!
Cardi's Day In Court
Now this is just a pretrial hearing about that strip club altercation, and not the rapper's full day in court, but she was still reportedly on her best behavior the entire time she was in front of the judge. Smart, girl!
According to ET, Cardi was composed and calm, and was even overheard telling someone she "felt pretty good" on the way into her meeting. She was relaxed as can be once in front of the judge, barely making a peep until she sneezed unexpectedly, to which the judge responded, "bless you." Awww!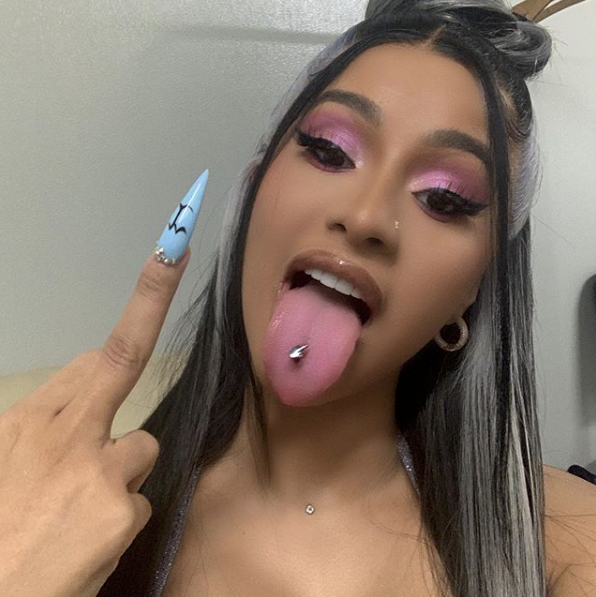 Very polite, they are! Ha!!!
Offset's partner bolted pretty quickly after the hearing was over, in an attempt to avoid the throng of media that had gathered around. Her lawyers stuck around and informed the press of another hearing in this case on January 17, 2020. Cardi is not required to attend that one, though, and likely won't be around for it. But if she does, we're sure to be watching just to see what she wears!!!
So What's The Verdict?!
As you'll recall, back in October 2018, Cardi was arrested and charged with two misdemeanors, assault, and reckless endangerment, over her alleged actions at the Angels Strip Club in Queens. Cops claim Cardi and members of her entourage threw drinks, chairs, bottles, and a hookah pipe at two of the club's bartenders, resulting in injuries.
Related: Cardi B Opens Up More About Motherhood! Awww!
The high-profile rapper rejected a plea offer back in April, and she insists she didn't hurt anyone during the apparent altercation. More recently, in June, she pleaded not guilty after being indicted on 12 counts, including two counts of attempted assault with intent to cause serious injury — both of which have now been updated to felonies.
There's no question court is going to be a challenge for Cardi and her team, but she's clearly content to hang in there as it plays out — and look damn good doing it! Reactions, Perezcious readers? Sound OFF with all your opinions about all this in the comment section (below)…
[Image via WENN/Instar]